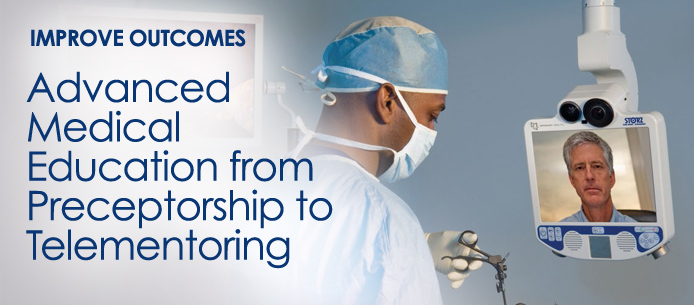 The Foundation for Advanced Medical Education (
FAME

)

The Foundation for Advanced Medical Education (FAME) pro­vides education by nation­ally promi­nent con­sul­tants giv­ing prac­ti­cal instruc­tion to sur­gi­cal and other inter­ven­tional staff mem­bers that enhances basic tech­ni­cal skills, assists with the uti­liza­tion of new tech­niques, and aids in the per­for­mance of new pro­ce­dures. This includes on-site train­ing and teach­ing by experts which helps assure that the clinician's prac­tice meets cur­rent stan­dards. The time com­mit­ment may vary. FAME is cur­rently funded by the physi­cian alone or the physi­cian in con­junc­tion with the hos­pi­tal. Sur­gi­cal tele­men­tor­ing is avail­able in most spe­cial­ties. The Foundation wel­comes grants to assist in its edu­ca­tional efforts.
Proc­tor­ing in Estab­lished Techniques
When desired, on-site obser­va­tion and proc­tor­ing by impar­tial medical or sur­gi­cal experts can be arranged. This expert observes a physician's prac­tice over a suf­fi­cient period of time to judge his or her com­pe­tence to per­form the procedure(s) in ques­tion, and then, if required, assists in devel­op­ing an edu­ca­tional pro­gram to bring the prac­tice up to accept­able stan­dards. This pro­gram may include a spe­cial­ist with rec­og­nized exper­tise to work with a physi­cian on-site. The expert may work inter­ac­tively on des­ig­nated pro­ce­dures to assist, cri­tique, and edu­cate in iden­ti­fied areas of deficiency.
Pre­cep­tor­ing in New Tech­nolo­gies — Telementoring
FAME has a three step pro­gram designed to pro­vide train­ing for prac­tic­ing physi­cians in the safe and effec­tive use of new devices and new tech­nolo­gies. This pro­gram was devel­oped by a FAME Grant in col­lab­o­ra­tion with five promi­nent spe­cialty soci­eties. Pro­ce­dures such as endo­scopic or endovas­cu­lar inter­ven­tions begin with education by lec­ture, CD or online inter­ac­tion. Next, the trainees are taught hands-on use of the device through a lab­o­ra­tory expe­ri­ence with sim­u­la­tors. In the third step, expert pre­cep­tors pro­vide prac­ti­cal guid­ance. The experts will demon­strate the usage of the new instrument(s) and/or method­olo­gies at their own insti­tu­tions, and then go to the preceptee's hos­pi­tal to observe and, if desir­able, assist the pre­ceptee per­form­ing the pro­ce­dure for the first time, and fol­low­ing that, mon­i­tor by telementoring.
Tele­men­tor­ing Grant Announcement