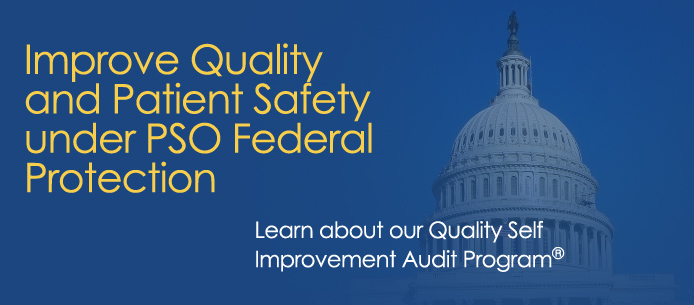 Amer­i­can Medical Foundation Patient Safety Orga­ni­za­tion (AMFPSO)
The American Medical Foundation is a Federally-listed Patient Safety Organization (PSO) authorized by the Agency for Healthcare Research and Quality (AHRQ), on behalf of the Secretary of the U.S. Department of Health and Human Services (HHS).
What is a Patient Safety Organization (PSO)?
Through Federal protections of legal privilege and confidentiality authorized by the Patient Safety and Quality Improvement Act of 2005, PSOs create secure environments in which providers can collect and analyze data to identify and reduce the risks and hazards associated with patient care. PSOs are designed to foster a system-wide culture of safety and help clinicians, hospitals and health care organizations improve the care they deliver to patients by encouraging them to conduct quality and safety analyses.
How can Peer Review be protected by Federal Law?
Peer Review can be performed under the PSO and not be subject to legal discovery in accordance with Federal law. A Patient Safety Evaluation System (PSES) is established, and any data or information, such as a sentinel event analysis (for example) becomes part of the Patient Safety Work Product (PSWP) and is privileged and confidential under Federal law. Peer review confidentiality laws alone are inconsistent and differ from state to state. In some states such as Florida and Kentucky, peer review protections are challenging. Therefore, it is important to have confidence that the data collected and the information derived from it are kept secure.
Why should you contract with AMFPSO?
• There is a Federal mandate: All hospitals with over 50 beds to establish a Patient Safety Evaluation System under a PSO, in order to contract with Insurance Exchange Qualified Health Plans. Under Section 1311 of The Patient Protection and Affordable Care Act (ACA) Hospitals who opt out of this mandate through an evidence-based initiative (EBI) are forgoing the Federal protections against legal discovery and leaving themselves vulnerable in court.
• You can have more than one PSO: There is no statutory limit on the number of PSO's that a health care organization can have. If a hospital has an existing relationship with a PSO, for example, to collect Risk Management data, it does not preclude contracting with AMFPSO for protection of sensitive patient care data.
• AMFPSO has the experience and a reputation for excellence and specializes in peer review and education. AMFPSO is a component of the American Medical Foundation (AMF) that has brought the most eminent and respected physicians from all over the country to help over 3000 hospitals in all fifty states substantially improve their performance.
AMFPSO Quality Self Improvement Audit Program®
AMFPSO now provides a Quality Self Improvement Audit Program® in every medical and surgical specialty. For over thirty-five years, AMF has been nationally recognized for its ability to address the issues of quality in all specialties including interventional cardiology, pacemaker and ICD utilization, returns to surgery and surgical outcomes, radiology interpretation error rates and pathology error rates.
With the Quality Self Improvement Audit Program® and our specially developed tools, we are now able to assist hospitals in addressing other issues of medical necessity, re-admissions and more.
Read about our program in Cath Lab Digest, June 2013
For further information please call our offices at 215–545-6363 .